GENIUS 485J CTI

Funzionamento continuo a ciclo chiuso.
Tecnologia UVGI, Irradiazione 485J/m2 (λ 253,7 nm).
Trattamento dell'aria 400m3/h con 2 ventilatori tangenziali.
Grado di disinfezione 99,99% (rif. Mycobacterium tubercolosis).


Airborne disinfection device using UVGI
(Ultraviolet Germicidal Irradiation).
Reduction of the microbiological air contamination
in highest safety conditions in presence of
personnel.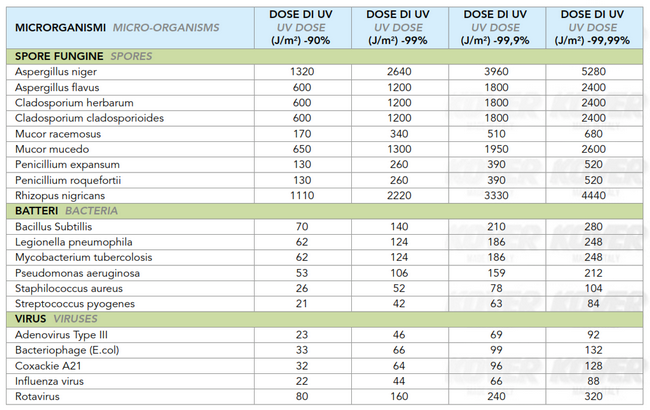 DOSES OF UV AT 253,7 NM NECESSARY TO INACTIVATE SOME SPECIES OF
MICROORGANISMS FROM 90% TO 99,99%
The illustration evidences the doses of ultraviolet
radiations necessary to destroy different
microrganisms.
As we can see, the fungine spores are obviously
the most resistant species, compared to viruses
and bacteria.
Aspergillus niger and Rhizopus nigricans are the
spores more resistant to the short wave length
ultraviolet radiations.
Penicillium is 10 times more sensible, while
Cladosporium and Aspergillus flavus can be
eliminated just with half dose used for more
resistant spores.
The goal of this analysis has been the evaluation of
UV STERIL AIR SYSTEM - GENIUS 485J CTI
efficacy in the air sterilization process and the
lasting of its effect.
For the experiment it has been prepared a room
hermetically closed; the volume of the ambience
is about 38 m3
(5x3x2,5m).
The room has been sterilized before every trial,
to avoid crosscontaminations during the analysis.
Resistant fungine species have been used for the
experiments.
Then the room has been contaminated atomizing biological suspended particles with a sprayer called "ULTRALITE" that atomizes particles with diameter from 20 to 80μm, situated in the middle of the room, at about 2,5 m distance from UV STERIL AIR SYSTEM - GENIUS 485J CTI.
The controls have been done with system "S.A.S, super 90" (International PBI, Milan) which can inspirate wellknown air volumes.
Every trial included 2 series of drawings in two different point of the room, respectively in the centre and in the opposite side.
The results indicated are expressed in U.F.T./m3 .
The formula of UV lamps efficiency is given by the spores destruction percentage:
e% = (spores destroyed/initial spores) x 100




e% = [(t1 – tn)/tn] x 100




tn = t2, t3, t4, t5, t6.



The results state the microbiological destruction efficacy of more reistant spores (Aspergillus niger and Rhizopus nigricans) in 150'.
In short, as from the results obtained, we can state that UV STERIL AIR SYSTEM - GENIUS 485J CTI has actually demonstrated how can definitely destroy the environmental microbiological contamination, in the shortest time.
Therefore it can be used in every ambience where protection and sanitary control are required.